Arizona Rose and the Pharaohs' Riddles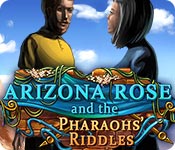 The clever and daring Arizona Rose is back for her most exciting adventure yet! Deep in the deserts of Egypt, a new temple has been unearthed. Inscribed on its walls are mysterious glyphs – a code, only Arizona can solve.
Join Arizona on an adventure that will span the globe and reveal secrets of the ancient world that no one could ever have imagined! Help excavate five ancient sites and decipher the riddles locked inside.
Whether you're an avid Arizona fan or you're meeting her for the first time, Arizona Rose and the Pharaohs' Riddles is sure to captivate you with its gorgeous artwork, brain-tickling gameplay and an ancient mystery you'll be itching to unravel!