Vacation Adventures: Cruise Director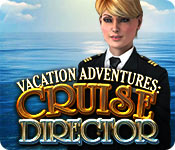 Spend a truly sensational and adventurous summer working as a Cruise Director, in charge of the Americas Cruise on the super-luxurious S.S. Liberty of the Waves! Arrange fabulous excursions to Mexico, the Caribbean, Rio de Janeiro and more! Visit pyramids, collect souvenirs, go on helicopter rides and glass bottomed boat tours.
Help passengers, visit cabins, and search for hundreds of hidden objects. Organize on-board entertainment, evening shows, and relaxation activities. Earn merit awards for your special achievements!
Vacation Adventures: Cruise Director guarantees a truly sensational, hour upon hour of gameplay for all ages to enjoy!