Viking Saga: Epic Adventure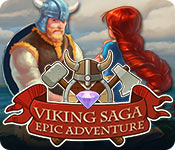 Go on an epic adventure around the globe in the name of love!
In order to marry the woman he loves, Northern King Ingolf, must complete her father's request to find the biggest diamond in the world. The jewel is hidden in the faraway lands so you and the brave leader of the Vikings will have to embark on an epic journey across the land and sea. In your travels you will visit 4 continents, meet helpful friends and cunning foes.
Play Epic Adventure today and enjoy 44 cleverly-designed levels that will test your resource-management skills!