Paranormal State: Poison Spring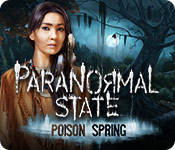 Iris Ramirez has called the team of supernatural investigators from A&E's hit TV show, Paranormal State in a panic! Her job and life are being threatened by dark spirits who have taken over Poison Spring Park, a Civil War battleground and museum.
Join the team of ghost-hunters and try to exorcise the ghosts before it's too late. Thrills abound as you race to solve a series of terrifying puzzles, investigate chilling hidden object scenes, and put together the pieces of who – or what – is behind it all! Only you can save Iris from the darkness falling upon the Park!