Jigsaw World Tour 3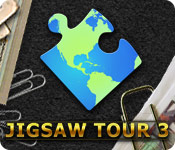 The Autumn season is the ideal time to go traveling and Jigsaw Tour will help you choose the best place to relax!
Start your long-awaited journey before you even pack your suitcases! Create your own personal tourist route and visit 7 famous cities around the world. Get inspired with 700 unique and high quality photos. View architecture, monuments, art, national clothing, cooking and souvenirs. Find out everything a city is famous for in the world of tourism.
Enjoy high quality images, convenient controls, heaps of clues and tools to help you configure the game to your liking. Special tasks and trophies make the game even more entertaining!
Study the culture and traditions of cities in the comfort of your own home. Travel around the world with Jigsaw Tour 3!