Hidden Expedition: Smithsonian Castle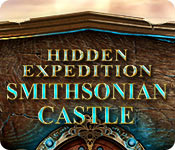 Big Fish Editor's Choice! This title was chosen for its high standard of quality and amazingly positive reviews from our Game Club beta testers.
From Eipix, in partnership with Big Fish and the Smithsonian Institution, comes the epic continuation of the Hidden Expedition series! Your old buddy and H.E.L.P. operative Sam calls you in to investigate a strange anomaly at the Smithsonian Castle. You soon learn there's more to this anomaly than meets the eye, and H.E.L.P's reach stretches back to the Smithsonian's historic founding. Unlock the secrets of time travel as you follow the clues into the Smithsonian Castle's Civil War past.
See what our Beta testers had to say:
"Brilliant game! Fun and educational. This will be purchased the second it is offered. I loved everything about it." – Cynthia, Beta Tester
"I was so engrossed in the story line I did not realize how long I was playing. Thoroughly enjoyed it." – Miles, Beta Tester