Legend of Maya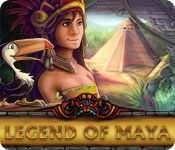 A long time ago, in the lands of the Maya…
Princess Kin and Prince Chaac were two children of hostile tribal leaders. Every now and then, the young couple would meet somewhere deep inside the jungle to find some peace. However their secret has been revealed and they were immediately separated from one another.
Filled with rage, Kin's father decides to promise his daughter to a man who can build the most magnificent city the Maya have ever seen! Prince Chaac has only one chance to be with his love…
Dive into this Maya-fairytale, take on Prince Chaac's mission and construct an outstanding city with many inhabitants! Collect resources and collect as much gold as you can to upgrade the simple houses, temples and production sites and turn them into pompous buildings! Use Voodoo-magic, create magical pearls and unseal locks to make your city grow faster and bigger.
Solve hidden-object games and riddles and lead Kin and Chaac to their Happy Ending!