Monument Builders: Cathedral Rising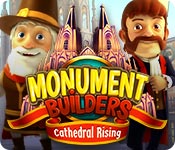 Travel through the middle ages to the Renaissance and build the world's tallest Gothic cathedral. Heed the advice of a Project Manager and his brother, the Storyteller. Will you accept the challenge that span over six centuries? Can you build Germany's most famous monument, the Cologne Cathedral?
Gather construction materials, clear the terrain and transport the material to the workshop. Protect your construction site from robbers and bandits. Discover more than 40 places and uncover 29 hidden object scenes! Will you be able to complete the construction in time and leave your mark in history?