ReignMaker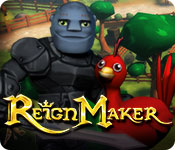 ReignMaker is a city building political strategy game with match-3 tower defense combat. Your strategy, tower defense and match-3 skills will determine the fate of the world.
Your political decisions will affect the story and the culture of your kingdom. As the capital city improves, you will have access to more powerful spells, mightier elite troops and better battlefield gear. Complete quests, earn achievements and fill your Bestiary with enemies.
Lead your Kingdom against the invading Void Army that threatens all life. Save the world one tower at a time!