Mystery Case Files: Dire Grove, Sacred Grove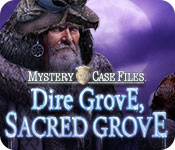 Big Fish Editor's Choice! This title was chosen for its high standard of quality and amazingly positive reviews from our Game Club beta testers.
Dire Grove has been plunged into a record-defying cold, and wild animals threaten at every turn! You've been called in to uncover the source of the town's troubles. But you quickly find yourself in the middle of a feud between the local hunters and the mysterious Mistwalkers who live in the woods. Can you prevent an all-out war? Pick your gender and use an innovative deduction mechanic as you try to discover the secret behind Dire Grove's curse!
See what our Beta testers had to say:
"I really enjoyed this game. The graphics were outstanding and I like the more challenging puzzles. The hints were excellent. Overall, this is the best MCF yet!" – Georgia, Beta Tester
"MCF has hit it out of the park with this one! I cannot wait for the game to come out!" – Morgan, Beta Tester