Fill And Cross Christmas Riddles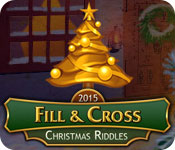 The most magical night of the year is here… RIGHT NOW!
Cold outside? Don't want to leave the house? No worries, our new game will put you in a perfect holiday mood! Check out 120 new unique griddlers!
Have a fun and relaxing time assembling them on your own, with your kids, or with the whole family! Solve 120 unique levels in 6 new different rooms of Santa's house and earn many unusual winter trophies!
120 gifts is better than 1! Merry Christmas and Happy New Year! HO! HO! HO!