Secrets of Olympus 2: Gods among Us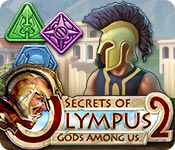 The adventure continues. The Secrets of Olympus are now in the hands of humans and the GODS cannot protect them anymore!
Discover how you can combine the powers from the war table and win against the enemy army. Use your knowledge wisely because the book of history is only written by true heroes! Have hours of fun playing match-3 levels and minigames in this action packed game!