Monument Builder: Empire State Building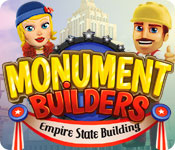 The Empire State Building is now more exciting than ever! Participate in the construction of the iconic Empire State Building while learning tons of anecdotes. Become the construction site manager of one of the world's most famous monuments. Clear the site, produce materials, and hold back the creditors and the King-Kong fans. Don't abuse the film crew too much, though, or they'll put you even further behind!
MONUMENT BUILDERS, the monumental time-management series!