Witches' Legacy: Slumbering Darkness Collector's Edition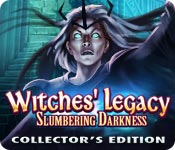 Big Fish Editor's Choice! This title was chosen for its high standard of quality and amazingly positive reviews from our Game Club beta testers.
The legacy of the witches continues with another exciting game in the series brought to you by EleFun! Good witch Lynn and her witch hunter husband are lured into a trap set by a mysterious sorcerer. Uncover his evil plans and save your family! You'll be joined by an impish sidekick who can do what you can't, when he's got the right stuff… This is a meaty game with loads of puzzles and hidden-objects scenes to keep you satisfied.
See what our Beta testers had to say:
"This is the best trial I have been sent by far! I love everything about this game, the variety of the mini games, the storyline, just everything, and I cannot wait for it to come out!" – Tess, Beta Tester
"Outstanding…job well done. Quality graphics, music, storyline…looking forward to its release!" – Aaron, Beta Tester